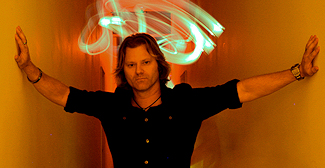 J.G. Wolfensberger is the founding member of MORE LIKE MACHINES, a music production and performance project born from the ashes of his previous band, LESS LIKE FLESH. Prior to these projects, he recorded as FEVERTECH and has 2 albums on iTunes, Amazon, and other online music retailers.
Wolfensberger has over 100 production credits which include solo work, collaborations, remixes, multiple CDs and retail downloads, and licensing to DVD, film, television, and web projects.
He is also the executive producer of the documentary, "Nameless: Revealing a Generation."
LIMITED TIME: Get the 2009 release,
Snake Oil Nation, for free: DOWNLOAD.
Photography by Max Lowe
© 2013 More Like Machines